Table of Contents
Are you ready to make your celebration a sparkling event? Get ready to hear about the amazing mini Prosecco bottles that are perfect for any occasion. From humble local stores to exciting online delivery and pickup services, these delightful bubbly bottles will bring joy to your event.
Learn about Signorina and Bella Principessa Docg Asolo Prosecco! Discover why mini Prosecco bottles are an ideal choice for celebrations and which amazing mini Prosecco bottle testers are recommending for 2023.
Let's get started on your bubbly journey!
Short Summary
Mini Prosecco. Bottles are perfect for hosting events and parties without wasting any wine!
Shop local or online delivery services to get your Mini Prosecco Bottles with same-day delivery and contactless options.
Get excited about the best Mini Prosecco Bottles of 2023, like Bella Principessa Doc Rose and Signorina Spumante Prosecco!
What are Mini Prosecco Bottles?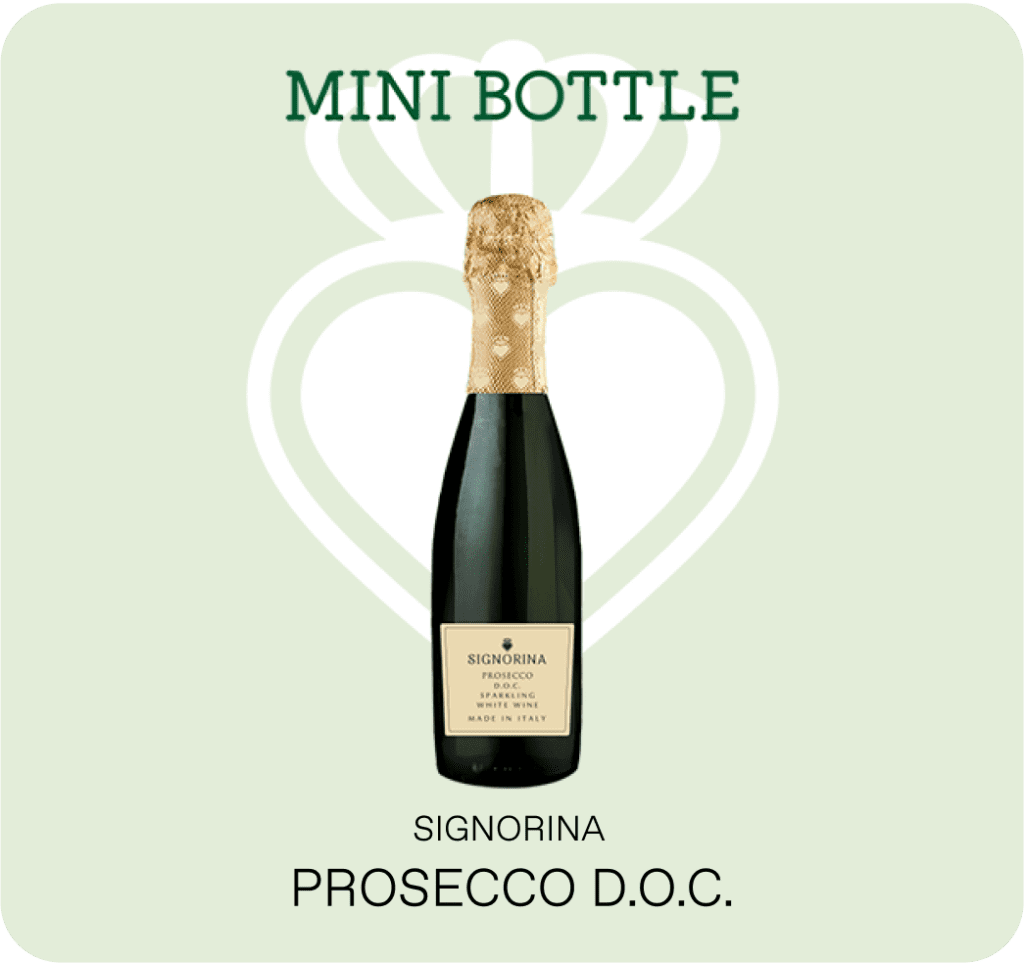 Mini Prosecco bottles are all the rage! They come in tiny 187mL bottles, a quarter the size of a standard bottle – perfect for two glasses of bubbly fun! These mini bottles of wine, also known as "split" bottles, are the perfect size for a lighthearted and refreshing experience with friends.
Prosecco is a sparkling Italian white wine made from Glera grapes grown in the Veneto region of Italy. It's light, crisp, and fruity with a hint of sweetness. Mini Prosecco bottles are an excellent way to enjoy a refreshing glass of bubbly without opening a full-size bottle.
They are also great for hosting events and parties, so you don't have to worry about wasting any leftover wine.
Where to Buy Mini Prosecco Bottles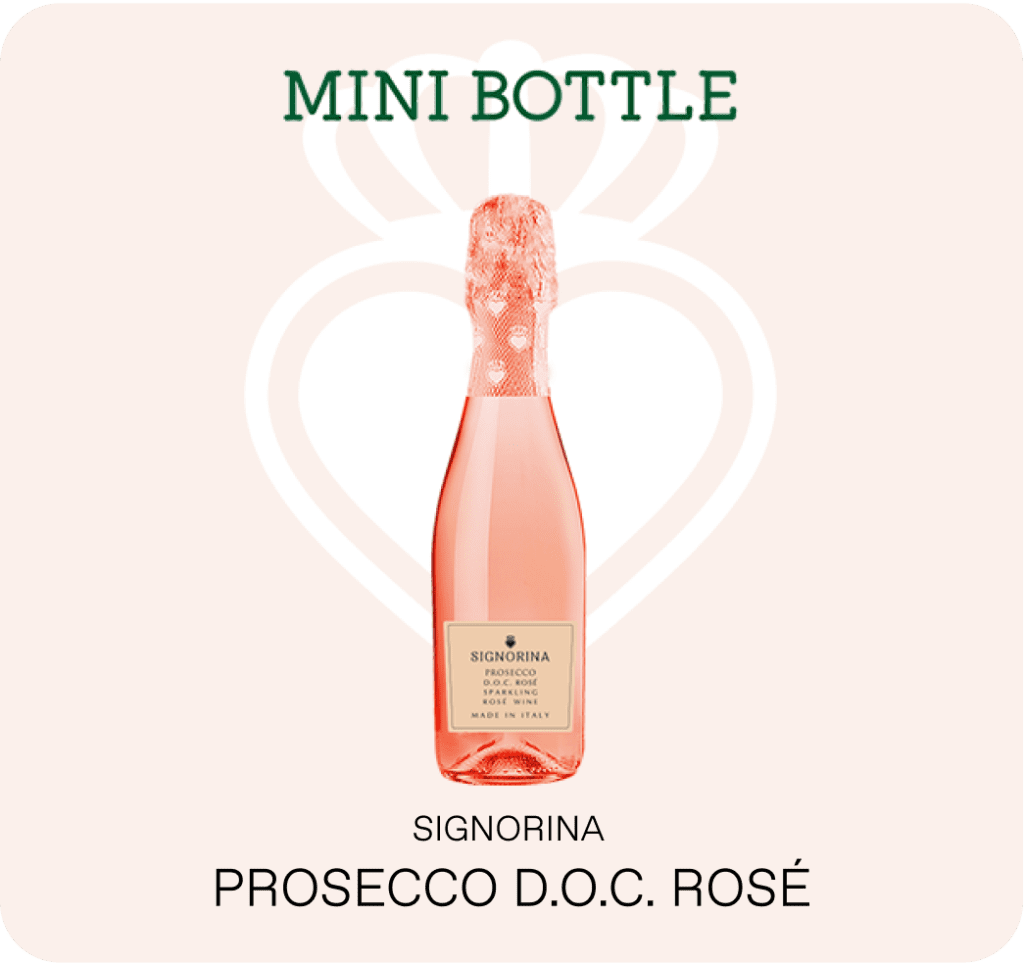 You can find mini Prosecco bottles at local stores and through online delivery services. Whether you're looking for a small bottle to take to a party or a full-size bottle for a special occasion, you can find just what you need to make your day or event special.
With the convenience of delivery services like Instacart, you can even have your mini Prosecco bottles delivered right to your door! Instacart offers same delivery, same-day delivery, contactless delivery, and the option for pickup so that you can get your hands on those delightful mini Prosecco bottles ASAP.
Signing up for Instacart+ has its benefits. You can enjoy no delivery fee on orders that are over $35. Also, you get lower service fees as well. Now that's something to celebrate!
Local Stores
You can find mini Prosecco bottles at local liquor stores. Total Wines and More, Primo Minimarket, and Liquor and Triton Liquors in Miami Beach, FL, are three great options for finding mini bottles of Prosecco. Plus, when you shop locally, you can get fresh Prosecco mini bottles on the same day you order, so you don't have to wait for delivery.
The convenience of local stores makes them an excellent choice for those who want their bubbly ASAP! With the help of friendly store employees or shoppers, you can get your mini Prosecco bottles straight to your car or swing by the designated pickup area and grab them yourself.
Online Delivery Services
Online delivery and pickup services for mini Prosecco bottles are an exciting way to get your hands on those delicious mini Prosecco bottles. With the click of a button, you can order, pick your minis and have them delivered right to your door. Plus, online delivery services offer a vast selection of products, and you can compare prices and reviews from different online stores.
Some of the best places to buy a mini bottle of Prosecco are online and various online stores specializing in mini bottles of sparkling wine. With the convenience, selection, and price comparison offered by online stores and delivery services, ordering mini Prosecco bottles is easy, fun, and worth it!
Enjoy Same Day Delivery Convenience
Embrace the convenience of having your favorite mini Prosecco bottles delivered right to your doorstep when you order them. Local stores and online delivery services have streamlined operations to ensure your celebration starts without a hitch. Whether planning a big event or an intimate gathering, you can easily procure preferred mini Prosecco bottles, including Bella Principessa and Signorina.
Best Mini Prosecco Bottles 2023
Mini Prosecco bottles have become the top choice for festivities due to their unmatched ease and transportability. Perfect for creating unforgettable moments with your near and dear ones, these handy bottles preserve the freshness and fizz of the wine, ensuring the finest quality and flavor. In 2023, two exceptional offerings stand out for their exquisite bottles and the superior Prosecco within, promising an unforgettable experience.
When choosing the best mini Prosecco bottle, you must consider your unique taste preferences, occasion, and budget. Other vital considerations include the alcohol content, the level of sweetness, and the region where the Prosecco was produced.
One option stands out for its refreshingly crisp and invigorating character, with delightful hints of green apple, grapefruit, honey, and pear. Another option offers a light and fruity profile with pleasant undertones of peach and apricot.
A third selection is a light and aromatic offering with subtle honey, peach, and citrus notes. Yet another blend sparkles with its composition of Pinot Grigio and Glera grapes, offering a rich and creamy character.
Another classic mini Prosecco stands out with its vibrant, aromatic profile and fresh, light-bodied palate. An organic offering stands out with its golden color, white flowers, and ripe fruit fragrances.
Another delicate and aromatic Prosecco selection impresses with its silky texture and lasting finish. There's also a refined and elegant Prosecco that stands out for its notes of white flowers, apples, and pears.
Lastly, a standout wine selection includes signature Prosecco and Rose bottles, offering an unforgettable tasting experience.
Bella Principessa Mini Prosecco Bottles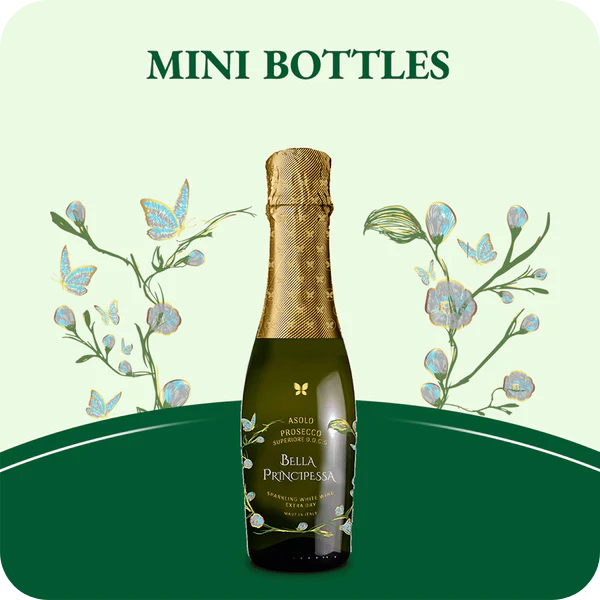 Bella Principessa Mini Prosecco. Bottles are a fantastic option for those looking for a light and refreshing sparkling wine. This Italian brand has produced quality Prosecco for over 30 years and shows in its delicious mini bottles. Their range of flavors and sizes makes them perfect for any occasion.
The benefits of Bella Principessa Mini Prosecco Bottles make them an ideal choice. They are convenient and portable, making them great for outdoor weddings, parties, and gatherings, and they also offer the perfect way to enjoy a glass of Prosecco without cracking open a full-size bottle. Their signature blend of honey and grapes gives their Prosecco a crisp and delightful flavor that will surely please.
Bella Principessa Mini Prosecco Rose Bottles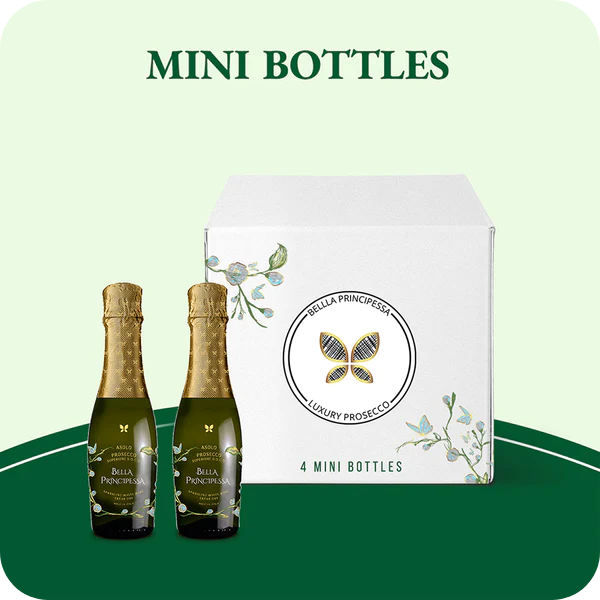 The incredible Bella Principessa Mini Prosecco. Rose is a delightfully light and refreshing sparkling rose wine! You can tantalize your taste buds with Bella Principessa Mini Prosecco Rose Bottles in various delicious flavors, including peach, raspberry, grapefruit ripe lemon, and strawberry, and in 20cl and 75cl bottles.
With the perfect balance of aromas, flavors, and effervescence, Bella Principessa Mini Prosecco Rose Bottles are the ideal choice for any event or gathering. Whether celebrating a special occasion or enjoying a casual evening with friends, Bella Principessa Mini Prosecco Rose Bottles offer a unique and delicious way to enjoy your favorite sparkling wine.
Signorina Mini Prosecco and Pink Prosecco Bottles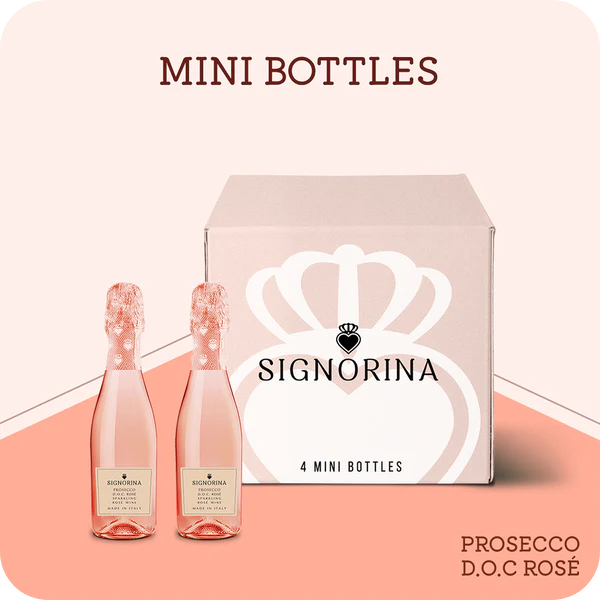 Signorina Mini Prosecco and Pink Prosecco. Bottles are a fresh and delightful way to enjoy sparkling wine! They come in various sizes, ranging from 20cl to 35.5cl, so you can find the perfect size for your celebration. Plus, they're light, refreshing, and the perfect size for a single serving – so you can indulge without overdoing it!
Whether it's a special occasion, a romantic dinner, or just a night in with friends, Signorina Mini Prosecco and Pink Prosecco Bottles are the perfect addition to your evening.
Why we love the Bella Principessa Prosecco brand
Bella Principessa Prosecco is an extraordinary brand that's independently owned by a family, inspired by a fairytale, and committed to sustainability! It's made from 100% Italian Glera grapes, hand-picked fresh from single-estate vineyards. The grapes are carefully crafted with sustainable methods, giving Bella Principessa Prosecco its unique flavor. Plus, it's vegan-friendly so that everyone can enjoy its delightful bubbly!
We love Bella Principessa Prosecco for its commitment to sustainability, exquisite flavor, and vegan-friendly bubbly! It's perfect for any special occasion, from romantic dinners to festive celebrations.
Signorina prosecco, one of Italy's most famous Prosecco brands, is perfect for any sparkling wine occasion!
Embracing the Green Apple Note in Mini Prosecco Bottles
In the world of Prosecco, specific flavor notes often distinguish one brand from another. One such distinct and desirable note is that of the green apple. The crispness and slight tartness of this fruit's flavor can greatly enhance the drinking experience of sparkling wine, making it a beloved characteristic in many sparkling wines.
These premium Prosecco wines exude the scent of crisp fresh citrus, sweet honey, and delicate white flowers. Its taste offers a fresh, clean palate of ripe lemon, juicy green apple, and vibrant grapefruit. These sparkling wines are refreshing and zesty, boasting a radiant straw hue and lively bubbles.
Consider brands like Bella Principessa and Signorina when seeking a mini Prosecco bottle with a refreshing hint of green apple. These offer a harmonious balance of fruity undertones, with the green apple note prominently cutting through. It's an exciting profile that adds a delightful twist to your celebrations, giving you and your guests a unique and memorable tasting experience.
The presence of green apple imparts a refreshing palate and adds a depth of flavor that perfectly complements the sparkling bubbles, making your toast even more special. So, next time you're planning a gathering, consider adding some green apple charm to your celebration with the right mini Prosecco bottle.
Summary
Mini Prosecco bottles have revolutionized how we enjoy a light, crisp, fruity glass of bubbly with friends. The best mini Prosecco bottles 2023, available through various local stores and online delivery services, are easily accessible across various price ranges and suitable for any size of gathering or celebration.
Standout options include the Bella Principessa Mini Prosecco Bottles and Signorina Mini Prosecco Rose Bottles. These brands have set the benchmark in their category, providing a delightful choice for your next celebration.
Options abound, whether you are seeking a vegan-friendly choice like Bella Principessa or a bottle recognized with multiple awards for its delightful taste. You can even find bottles that tantalize the senses with delectable aromatics and offer nutritional benefits – a cornucopia of sparkling options! Searching for the perfect mini Prosecco bottle for your celebration is an exciting journey!
Get your shopping started, and let the festivities commence!
Frequently Asked Questions
What are small bottles of Prosecco called?
A real treat for any occasion and perfect for celebrating, delight in a small bottle of Prosecco: they are commonly known as 'splits!'
These 187ml bottles make the ideal individual portion size and can add a touch of sparkle to any event.
Can you get Prosecco in small bottles?
Yes, you definitely can! Prosecco is available in small bottles in various sizes, from 20cl (about a quarter of a standard bottle) to half bottles – perfect for when you don't need a whole bottle.
Enjoy your mini-prosecco experience today!
How many glasses of Prosecco are in a mini bottle?
Prepare to be delighted – A mini prosecco bottle contains two glasses of bubbly, perfect for celebrating something special on the go. Get ready to enjoy!
How much alcohol is in a mini bottle of Prosecco?
A mini bottle of Prosecco contains the same amount of alcohol as a standard 125ml glass – equivalent to about 1.5 units.
So, get ready for a fun night with your friends and enjoy a delicious mini bottle of Prosecco!