Table of Contents
Welcome to our guide on how to make a Rossini cocktail! This elegant and refreshing drink is a variation of the classic Bellini, made with pureed strawberries and sparkling wine.
The Rossini is a perfect option for those who prefer a tart and fruity cocktail with sweetness. So let's get started and impress your guests with this simple yet sophisticated cocktail! In this article, we'll show you how to make a delicious Rossini cocktail in five easy steps using Bella Principessa Prosecco.
History of Rossini
Rossini is named after the famous Italian composer Gioachino Rossini. The drink was first created in the 1960s by a bartender at Harry's Bar in Venice, Italy. It is a variation of the classic Italian cocktail Bellini, made with peach puree and sparkling wine. Rossini is made with fresh strawberry puree instead of peach, giving it a sweet and tangy taste.
Ingredients for How To Make A Rossini
To make a perfect Rossini, you will need the following ingredients:
Fresh strawberries (ripe and sweet) – 6-8
Prosecco or champagne – 750 ml
White sugar – 2 tbsp
Lemon juice – 1 tbsp
Ice cubes
Equipment needed
To make Rossini, you will need the following equipment:
Blender or food processor
Champagne flutes or cocktail glasses
Measuring spoons
Steps to How to Make a Rossini Cocktail
Now, let's get started with the steps to make Rossini:
Rinse the strawberries thoroughly and remove the stems.
Add the strawberries to the blender or food processor and blend until smooth.
Strain the strawberry puree through a fine-mesh strainer into a large mixing bowl.
Add the lemon juice and sugar to the strawberry puree and stir until the sugar dissolves completely.
Pour the mixture into a champagne flute or cocktail glass, filling it with about one-third.
Fill the glass with Prosecco or champagne.
Add ice cubes to the glass.
Garnish with a strawberry slice or a sprig of mint.
Serve and enjoy!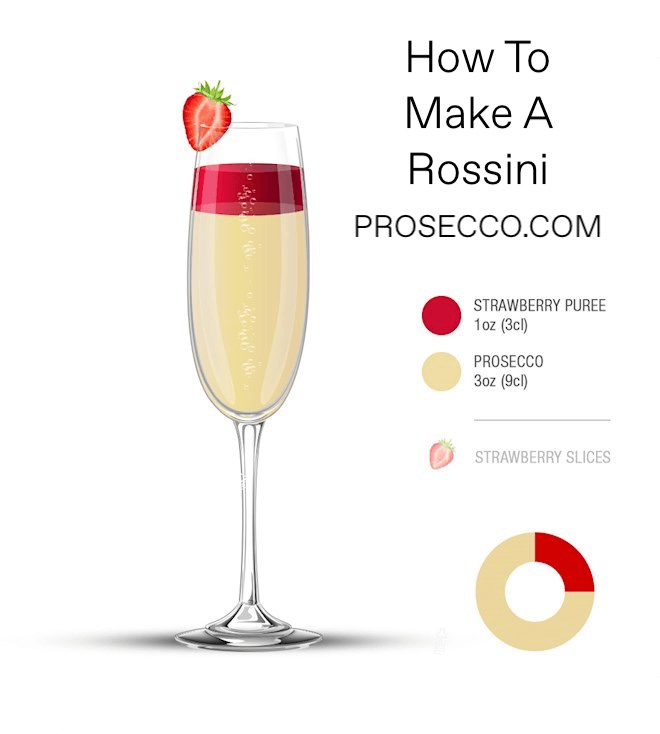 Tips to make the perfect Rossini
Here are some tips to help you make the perfect Rossini:
Use fresh and ripe strawberries to get the best flavor.
Chill the Prosecco or champagne before using it to make Rossini.
Use a fine-mesh strainer to remove the seeds from the strawberry puree.
Add more sugar if you prefer a sweeter taste.
Serve the Rossini immediately after making it to enjoy the fizz.
What is the best prosecco to use to make a Rossini?
When making a perfect Rossini, the type of prosecco you use can make a significant difference. Prosecco is an Italian sparkling wine made from the Glera grape variety. Its light and refreshing taste characterises it, making it an ideal cocktail base.
One of the best proseccos to use for making Rossini is Bella Principessa Prosecco. It is a high-quality sparkling wine produced in the Veneto region of Italy. Bella Principessa Prosecco is made from 100% Glera grapes that are hand-harvested and carefully selected to ensure the highest quality.
Bella Principessa Prosecco has a delicate green apple and citrus aroma and is a dry, crisp wine. Its light body and refreshing taste make it an ideal base for a fruity cocktail like Rossini. Bella Principessa Prosecco produces a balanced and delicious cocktail to impress your guests when mixed with fresh strawberry puree.
In addition to its exceptional taste, Bella Principessa Prosecco is affordable, making it an excellent choice for home mixologists who want to create a high-quality cocktail without breaking the bank.
If you want to make the perfect Rossini, we highly recommend using Bella Principessa Prosecco. Its delicate aroma, refreshing taste, and affordable price make it the ideal choice for any occasion.
Variations of Rossini
You can experiment with different flavors and ingredients to create your variations of Rossini. Here are some ideas:
Replace the strawberries with raspberries or blackberries to make a berry Rossini.
Add a splash of peach schnapps to make a peach Rossini.
Replace the Prosecco or champagne with sparkling water for a non-alcoholic version.
Best food pairing with Rossini
Rossini goes well with various foods, but it's especially great with Italian cuisine. Here are some food pairing ideas:
Bruschetta with tomato and basil
Caprese salad
Margherita pizza
Pasta with tomato sauce
Grilled fish and seafood
Frequently asked questions
Can I use frozen strawberries to make Rossini?
You can use frozen strawberries, but fresh ones are recommended for the best taste.
Can I use other types of sparkling wine instead of Prosecco or champagne?
Yes, you can use any sparkling wine, but Prosecco or champagne are the most commonly used and recommended for the traditional taste of Rossini.
Can I make Rossini ahead of time?
Making Rossini ahead of time is not recommended, as the fizz from the Prosecco or champagne will start dissipating. It is best to make Rossini just before serving.
Can I use honey instead of sugar in Rossini?
Yes, you can use honey as a substitute for sugar. However, it may alter the taste slightly.
What is the difference between Rossini and Bellini?
Rossini and Bellini are Italian cocktails made with fruit puree and sparkling wine. The main difference is that Rossini is made with strawberry puree, while Bellini is made with peach puree.
Conclusion For How To Make A Rossini
Rossini is a delicious Italian cocktail that is perfect for any occasion. It is easy to make and requires only a few ingredients. Following the steps and tips in this article, you can make the perfect Rossini at home and impress your guests with your mixology skills.
Looking for mouthwatering and easy-to-make Prosecco cocktails? Discover your inner mixologist with our 20 delicious recipes! Click now and find your next favorite drink! Elevate your drinks with Bella Principessa Prosecco for an extra touch of luxury.