Table of Contents
Are you looking for a refreshing and easy-to-make brunch cocktail that's always a hit with guests? The classic mimosa is the perfect choice!
Made with equal parts sparkling wine and orange juice, this light and refreshing drink is a brunch favorite. This article will show you how to make a mimosa perfect every time, including helpful tips and variations.
The Origin of How To Make A Mimosa Cocktail
The mimosa cocktail originated in the glamorous city of Paris in the 1920s. The Ritz Paris Hotel is said to have served this cocktail to its guests, including famous figures like Ernest Hemingway and Coco Chanel. The drink's name is said to have been inspired by the yellow flowers of the mimosa tree, which are in bloom during the winter season in the south of France.
How to Make a Mimosa
Chill the sparkling wine and orange juice for at least 30 minutes.
Pour sparkling wine and orange juice into equal parts in a champagne flute or tall glass.
Gently stir the mixture with a spoon or cocktail stirrer.
Garnish with a slice of fresh orange or strawberry, if desired.
Variations on the Classic Mimosa:
Helpful Tips For How To Make A Mimosa
Chill the sparkling wine and orange juice for at least 30 minutes before serving to ensure they're nice and cold.
Use freshly squeezed orange juice for the best flavor and quality.
Add a splash of triple sec or another orange liqueur for an extra kick of flavor.
Use a dry sparkling wine like Bella Principessa Prosecco, Champagne or Cava for a crisp and refreshing taste.
Consider using a champagne flute or tall, narrow glass to enhance the presentation.
What Are Some Mimosa Cocktail Variations?
Swap out orange juice for grapefruit, pineapple, or cranberry juice.
Add a splash of raspberry or peach syrup for a fun twist.
Try using Bella Principessa Prosecco Rosé for a more luxurious mimosa.
Mix in a vodka, gin, or rum splash for a more potent cocktail.

How Do I Make A Non-Alcoholic Mimosa?
To make a non-alcoholic mimosa, replace the sparkling wine with a non-alcoholic sparkling beverage like sparkling cider or soda water. You can still use orange juice as the other ingredient.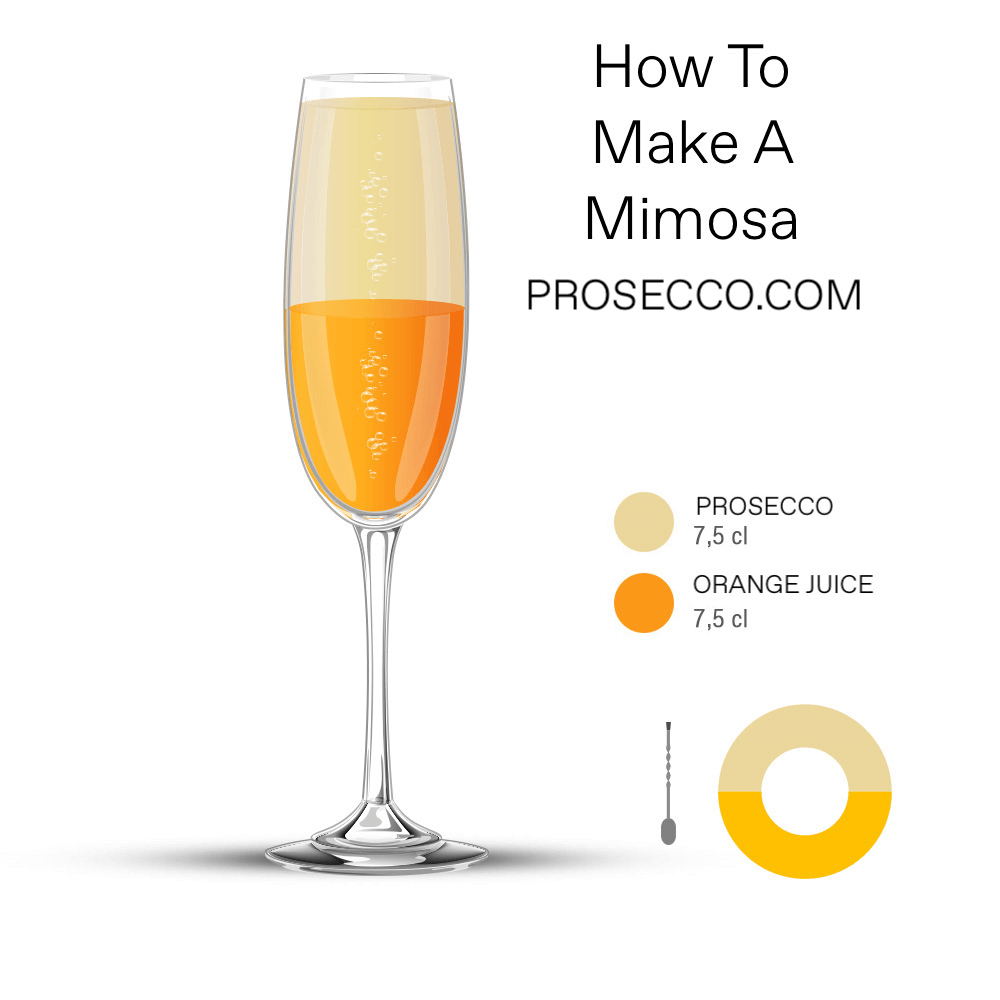 Can I buy a Mimosa cocktail in a can?
Looking for a stylish and convenient way to enjoy a mimosa? Look no further than Bella Vino's mimosa in a can! This canned cocktail is perfect for brunch or any occasion and is made with high-quality Prosecco and natural orange juice. The perfectly balanced flavors and fine bubbles make it popular among other canned cocktails. Try Bella Vino's mimosa and enjoy a refreshing and easy-to-sip experience.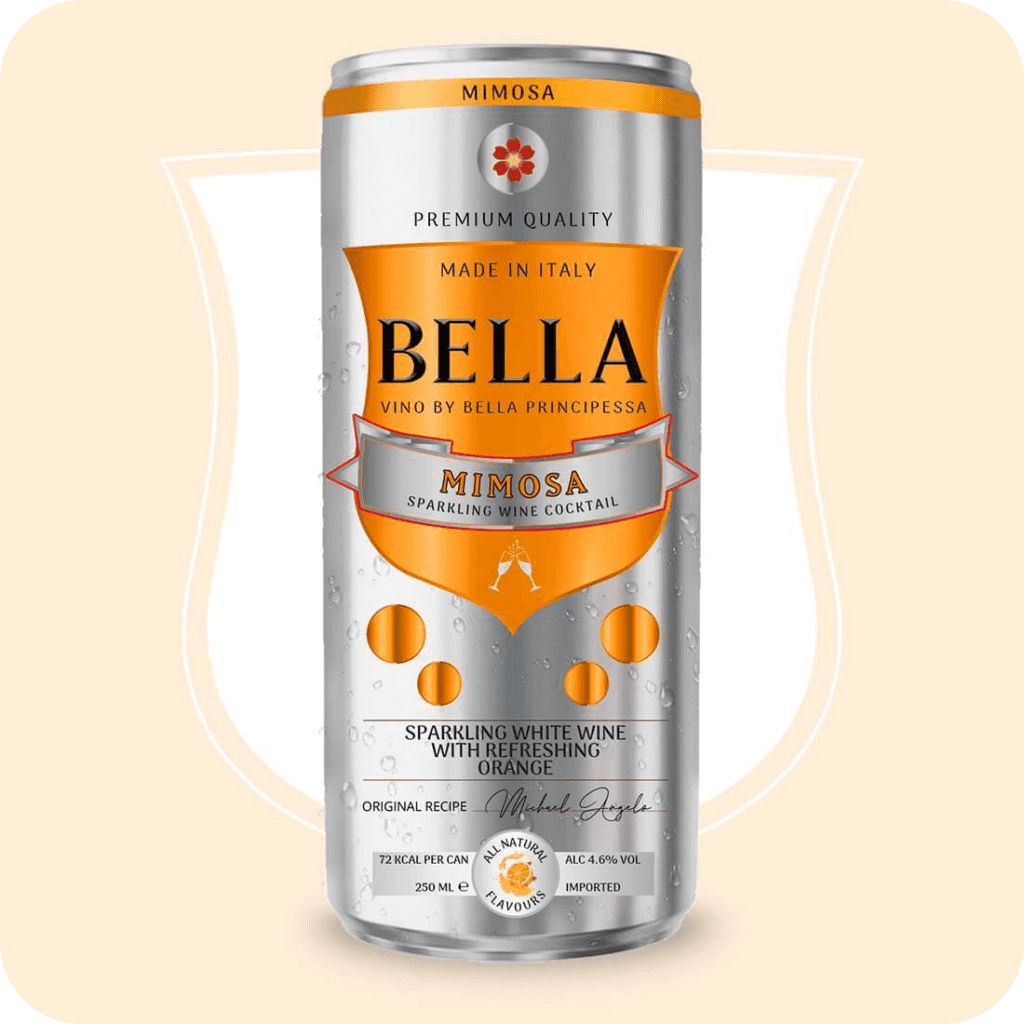 What is the best Prosecco to use?
Bella Principessa Prosecco is an excellent choice for making your mimosa, with its crisp and refreshing taste complementing the orange juice perfectly.
Its delicate aromas of white flowers and ripe apples will add a touch of elegance to your brunch gathering.
This high-quality prosecco is made from Glera grapes grown in the Veneto region of Italy, using traditional winemaking methods. Its fine bubbles and balanced acidity makes it popular among prosecco lovers.
So why not elevate your mimosa game by using Bella Principessa Prosecco? You won't be disappointed with the result, and your guests will surely appreciate this prosecco cocktail's delicious and sophisticated taste.
FAQs
Can I make a mimosa ahead of time?
While mixing your mimosa right before serving is best, you can prepare the ingredients beforehand. Just keep the sparkling wine and orange juice chilled separately until you can mix and serve.
How do I serve mimosas for a large group?
Consider setting up a mimosa bar with pre-chilled ingredients, fruit juices, and garnishes. Guests can mix their mimosas to their liking.
Can I use bottled orange juice for my mimosa?
While freshly squeezed orange juice is always best, you can use bottled orange juice if that's what you have. Just choose a high-quality juice with no added sugar or preservatives.
Can I make a mimosa without sparkling wine?
You can make a mimosa without sparkling wine by substituting it with another sparkling beverage, such as sparkling cider or soda water. However, remember that the drink's taste and texture will be different.
How many mimosas can I make with one bottle of sparkling wine?
The number of mimosas you can make with one bottle of sparkling wine depends on the size of your glasses and how much orange juice you use. As a general rule of thumb, a standard 750 ml bottle of sparkling wine should yield about 6-8 mimosas.
Conclusion
Now that you know how to make the perfect mimosa, it's time to put your skills to the test! Experiment with different variations and flavors to make this classic brunch cocktail your own. Cheers to a delicious brunch with friends and family!
20 mouthwatering and easy-to-make Prosecco Cocktail recipes
Impress your friends! Our article has 20 mouthwatering and easy-to-make Prosecco cocktail recipes that will turn you into a master mixologist. Plus, for an extra touch of luxury, try using our premium Bella Principessa Prosecco in each cocktail. Click through now to discover your next favorite drink!