Ist Prosecco ein Wein oder Champagner?
Prosecco ist ein Wein, kein Champagner. Es handelt sich um einen Schaumwein, der in der italienischen Region Venetien hergestellt wird.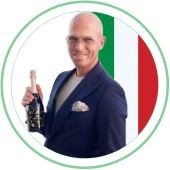 Read Bio
Michael Goldstein
Founder - Prosecco Ventures at
Prosecco.com
Join Michael Goldstein, founder of Prosecco Ventures, in making Bella Principessa more than just bubbles in a bottle and the world's most celebrated Prosecco brand. If you're a potential partner with innovative ideas for achieving great things together, please get in touch.